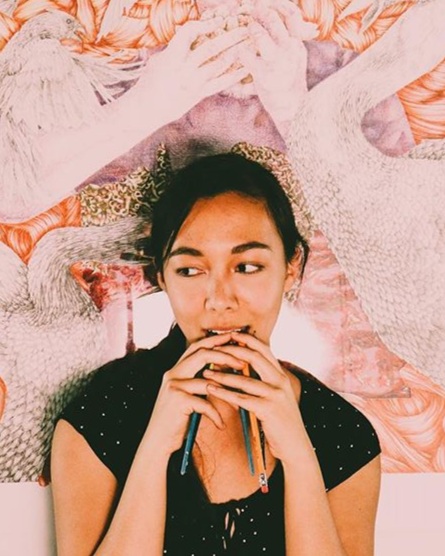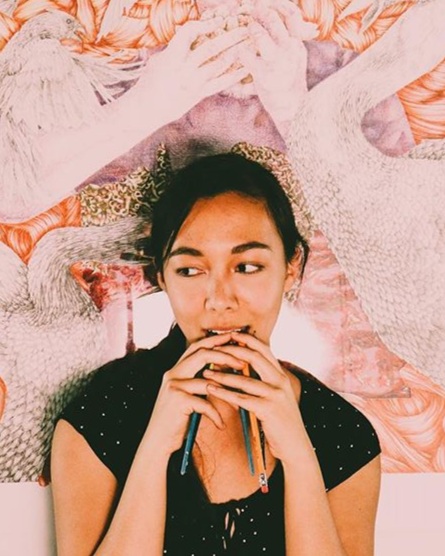 Ambrin Ling
As a practitioner in the visual language of stains and traces, Ambrin Ling uses painting, drawing, sculpture, and installation to explore ideas of absence, home, and belonging. Her work draws from her personal experiences moving across environments and as a mixed-race woman, as well as from her larger social, anthropological, and art historical research.
She received her BA from Carleton College in Minnesota and her MFA from the School of the Art Institute of Chicago.
Her work has been included in national and international exhibitions, including ARC Gallery (IL), Manifest Galleries (OH), Rhode Island Art League (RI), Ann Arbor Art Center (MI), and at the University of Helsinki, in addition to her receiving an Elizabeth Greenshield's Award.
Marisa Adesman
Marisa Adesman was born and raised on Long Island, New York. She recently graduated from the Rhode Island School of Design with her Masters of Fine Arts in Painting.
Through her artistic practice, Marisa examines the impact of femininity and modern culture in order to open up a conversation on gender politics with a strong emphasis on awakening the female selfhood. Through painting, video, and performance, she creates visual narratives that disrupt restrictive ideas of gender, social identity, and femininity, and she strives for an elusiveness that defies the social categories that threaten to limit women. Focusing on the kitchen and the dining room, Marisa explores how visual disorientation of the domestic space can work to unmoor and destabilize ingrained assumptions that have been historically limiting or socially constraining for women.
In 2013, she received a Bachelors of Fine Arts degree from the Sam Fox School of Design & Visual Arts at Washington University in St. Louis, where she majored in painting and psychology. Marisa graduated magna cum laude from WashU and received the Hazel H. Huntsinger Memorial Prize in Painting. She also attended Yale University's Summer School of Art in Norfolk, Connecticut in 2012 and Columbia University's Advanced Painting Intensive in 2013.
Lydia See
Lydia See is a multidisciplinary practitioner, educator, and curator of art + archives who is passionate about the uses of art for social justice + civic engagement.
She is interested in factors which mediate identity, both individual and environmental. This inquiry is rooted in history: literal and conceptual, local and global, intimate and environmental, personal and anonymous, colonized and indigenous.

Working primarily at the intersections of photography with fiber/object/craft/performance, her practice involves material and conceptual investigation through processes of collection, research, arrangement, stitching, weaving, photographing, re-photographing, and combining. She reinterprets the archive in (mostly found, discarded, or wasted) mundane domestic materials, accumulations, and outdated media to draw connections between memory, ephemerality and technology.

In her social practice she collaborates on public art projects and advises as a creative consultant / strategist with a focus on inclusive and accessible interpretive collateral and expanded engagement. She is especially interested in facilitating new pathways for participation in museums, galleries, libraries, archives, and special collections.
ANNA ABHAU ELLIOTT
Anna Abhau Elliott makes plays. Raised in Philadelphia, she moved to New York in 2007. Favorite acting projects include 600 Highwaymen's The Record (New York Times Critic's Pick), Ryann Weir's new play Debutante, and Andrea Geyer's Comrades of Time, a film installation that was performed live at the Whitney Biennial.
She is an Associate Artist with The Assembly, with whom she devised HOME/SICK (New York Times Critic's Pick, Backstage Critic's Pick) and SeagullMachine (in-progress). Anna makes new performances with Fresh Ground Pepper, a monthly event series in Brooklyn.
She improvises with ComedySportz in NYC and Philly.She has attended residencies with Fresh Ground Pepper and Rubber Repertory's Pilot-Balloon Church House. BFA: New York University (Tisch/Moscow Art Theatre). Oh, and once she was in a Beirut music video.
DESIREE MOORE
Desiree Moore was born in 1986 in the Hoosier state. Desiree began thinking about photography in 8th grade when she saw it listed as a class available in high school. She was dismayed, as only juniors and seniors could take the class. She waited.
The last years of high school left her hands with a permanent stench of developer and fixative. She loved it. Her love for the image migrated toward the moving image. She received her M.F.A. from the University of South Florida with her focus on Film/Video Art in 2013.
Currently, she works a myriad of positions on independent films and teaches at a local university. Her hobbies include: tracking down tented buildings, attempting to Parkour, and braking for small animals.
JENNIFER BONNER
Jennifer Bonner holds an MFA in painting and sculpture from the University of North Carolina at Greensboro, and a BFA in painting and drawing from the Ohio State University. A native of central Florida, her work plays off the theme-park culture of her childhood and the fantastic games that sprung from an early confidence in the existence of fantasy in the world.
An avid trail-runner, tree-climber, and builder of forts, Jennifer utilizes combinations of photography, sculpture, painting, and play to reveal to us secret places in our own world. Using animal sculptures she has made in tribute to the stuffed animals of her youth, Jennifer recreates events of play from her childhood exploits, and in photographing them, documents the imagined as real.
Her painted works, photo-based collages that revisit her travels, running mountain marathons under extreme conditions, and exploring snowy landscapes, create a pictorial narrative of the adventures of the artist and the other characters in her world, a testament to their adventures and those that lie ahead.
Jennifer was an exhibiting artist at Art In Odd Places, Greensboro: NUMBER, 2013, collaborating with Toledo-based artist Adam Sanzenbacher on their piece Head Count. Her 2013 piece Forting, a three-day event at the University of North Carolina at Greensboro has led to additional site-specific structures in public spaces, including UNCG's satellite viewing location for the 2013 Creative Time Summit: Art Place and Dislocation in the 21st Century, and Greensboro's historic Westerwood neighborhood.
Jennifer is looking forward to bringing these projects into the Spartanburg community as participatory events of art and play. She is currently working on a series of public projects in her hometown of Winter Park, Florida.
ROBIN SCHWARTZMAN
Robin Schwartzman grew up in eastern Pennsylvania where she spent her summer vacations on the boardwalks of the Jersey Shore. She received her BFA from Syracuse University in 2008 and in 2011, her MFA from the University of Minnesota, Twin Cities.
Robin currently resides in Minneapolis where she is an independent artist, an Academic Support Technician in the 3D Shop at the Minneapolis College of Art and Design and an Adjunct Instructor at the University of Minnesota. Her large-scale projects, commissions, and performances have been featured at the Walker Art Center, Katherine E. Nash Gallery, Northern Spark, Made Here Initiative and Art Shanty Projects, to name a few.
She is a recipient of a Minnesota State Arts Board Artist Initiative Grant and the Jerome Foundation Fellowship for Emerging Artists. Schwartzman's obsession with leisure and play has led her to amusement parks, miniature golf courses and playgrounds around the country and most recently, to the themed spaces of Japan.
LAUREN FEREBEE
Lauren works as a writer, actor, mover and deviser. Her play Somewhere Safer premiered at the 2013 NYC International Fringe Festival and recently joined her published short plays Bob Baker's End of the World and jericho, jericho online at Indie Theater Now.
Other full-length works include Blood Quantum (At Hand Theatre/WET Productions), Invisibility, or Tiny Rockets (Adaptive Arts), and the reckless season. Her work has also been developed with Spark and Echo Arts, Guerrilla Girls on Tour, ESPA/Primary Stages, Adaptive Arts, and Flux Theatre Ensemble.
Lauren is a proud member of playwriting collective Lather, Rinse, Repeat, blogs at The Famous Explorer's Society, and co-founded experimental performance video blog tinydanceconcerts. BFA, NYU/Tisch.
JONATHAN ADE
Born and raised in suburban Washington, DC, Jonathan Ade began making movies at eight years old. Since that time, he began his commitment to creating uniquely-held cinematic narratives.
He attended Emerson College in Boston, where he earned his BFA in Film Production as well as a minor in Creative Writing. His senior thesis film, "Through and Away", premiered at the National Film Festival for Talented Youth in 2008, where it won the Jury Prize for Best Feature. It went on to numerous festivals all over the country. Additionally, in the field of comedy, Jonathan was the co-creator of the hit mash-up trailer "Brokeback to the Future", now on view at the Museum of the Moving Image.
In 2010, Jonathan began a series of short films entitled "Meditations", in which each short focuses on a introspective moment of everyday life. The series has received numerous laurels from dozens of film festivals (listed below). The third, "Meditations: ItsOkayItsOkay" was completed in December and has begun its festival run.
His latest film, "Lay in Wait", wrapped shooting in June 2013, Executive Produced by Lucas Neff, star of Raising Hope on Fox.
AMBER HANSEN
Amber Hansen holds a MFA in drawing and painting from the University of Kansas and a BFA in painting and drawing from the University of South Dakota. From 2010 - 2012, she held the position of artist in residence at the University of Kansas.
Hansen is actively exhibiting in the mediums of film, drawing, musical performance and has been the lead artist in many public murals located throughout the Midwest. She has been the lead assistant to artist David Loewenstien in community based murals projects in Tonkawa, Oklahoma, (2010), Joplin Missouri, (2011) and Hastings Nebraska (2013).
Hansen is currently co-directing a soon to be released documentary film about creating community based murals in the mid-west titled, "Called to Walls", that is scheduled to be released in 2014.
ELI BLASKO
Eli Blasko is a visual artist currently working out of Pittsburgh, Pennsylvania. Blasko's practice spans a wide range of media, from traditional sculpture and printmaking to video, performance, and interactive works.
Thematically, his work embraces notions of uncertainty regarding the possibility of accurately representing ever-evolving systems such as culture, history, or the self. Exploring contrasting roles of the arts and sciences within modern society is also a frequently visited topic in Blasko's work.
He holds a BFA from Slippery Rock University of Pennsylvania and has also studied Intermedia at the Academy of Art and Design in Bratislava, Slovakia as well as Traditional Blacksmithing at Touchstone Center for Crafts in Farmington, Pennsylvania. During the past two years, Blasko has helped to execute several large-scale collaborative projects, participated in national conferences, while simultaneously maintaining a national and international exhibition record of his own.
TRAVIS BLANKESHIP
Travis Blankeship (B. 1984, Daviess County, Kentucky). He recently taught an Advanced Poetry workshop at the University of Mississippi. He received his BA in English from Western Kentucky University (2007) and his MFA in Creative Writing (Poetry) from the University of Mississippi (2011).
Travis is the founder of the Goldenrod Poetry Festival and has experience working with at risk youth and teaching English. He was a finalist for the HUB BUB AiR Program this past year and we are thrilled that he's accepted to fill our vacant spot in the program mid-year.
ERIC KOCHER
Eric Kocher was born in 1985 and grew up in Baldwin, New York. Eric received a Bachelor of Arts in English Literature from Binghamton University and a Masters of Fine Arts from the University of Houston where he was an assistant poetry editor for Gulf Coast and has taught literature, creative writing, and freshman composition.
He also has taught poetry to elementary school students for the organization Writers in the Schools and, for the past few summers, has left the Texas heat to teach at the University of Virginia's Young Writers Workshop. Some of his work has appeared or is forthcoming in Boston Review, DIAGRAM, Octopus, The Offending Adam, Washington Square Review, and elsewhere.
While at HUB BUB, aside from writing, Eric would like to work on a podcast that features the voices and stories he encounters in Spartanburg. He also plays a mean ukulele.
MARK RICE
Mark Rice was born in 1980 in Carbondale, Illinois. He grew up in central Indiana and then moved to Bloomington, Indiana earning a Bachelor of Fine Arts in printmaking. After graduation, Mark Rice became the team leader of his own homegrown multinational corporation, Goatmother Industrial.
Working under different smaller companies and pseudonyms within this conglomerate, Mark has worked in a variety of mediums and techniques from drawing to prints to performance and video. Throughout, Mark has maintained a deep attachment to music by performing and many local and touring musical outfits such as The Magnolia Electric Co., The Impossible Shapes, The Coke Dares, The John Wilkes Booze, Ativin, and many more.
These pursuits of visual art and music were eventually combined in 2006 with the founding of the Art Hospital, an exhibition space and all-ages venue for regional and national art exhibitions and music performances located in Bloomington, IN.
STEVE SNELL
Steve Snell was born in 1983 and grew up in the suburbs of Columbus, Ohio, where he watched a ton of great television and often rode his bike to Taco Bell.
After graduating from Miami University (of Ohio) in 2006 with a Bachelor of Fine Arts in Painting and a Bachelor of Science in Art Education, Snell moved to Alaska, eventually becoming the sole art teacher in a remote village called Yakutat.
There, he lived on a floating house in the harbor, where he was harassed by otters, chased by sea lions, and attempted to watch every episode of the television show MacGyver.
CORINNE MANNING
Corinne Manning (b. 1983, Neptune, NJ) believes in work that has a life behind the words: a beat, a breath and a will. She sees her own work as a collaboration with the reader: the reader gives the piece of work it's breath and the writer's job is to prepare the piece fully so the story can animate to its true self.
Her fiction explores what's often left unacknowledged and unquestioned in every day life, with a particular attention to the effects of gender and spirituality. She graduated from Sarah Lawrence College in 2005 and completed her MFA at UNC Wilmington in May. At UNCW she was a teaching assistant in the Publishing Laboratory where she designed books and broadsides.
Before moving to Wilmington she co-founded the Other Means Reading Series in Brooklyn, NY; a monthly literary reading and fundraising event that supported a different non profit each month. She also teaches yoga.
Corinne gains a lot of nourishment and inspiration from learning and her newest endeavor is learning to play the saw without the help of you tube. Her biggest accomplishment on that front was figuring out that the feet are not involved in playing it.
Another central piece of nourishment for Corinne is to be deeply involved with the community around her. She is looking forward to participating fully with HUB-BUB and the Spartanburg community.
RON LONGSDORF
Ron Longsdorf (b. 1983 Greensburg, PA) is an artist and independent curator. Although Longsdorf has training in sculpture and building, he considers himself a curator of objects and materials, His body of work combines various elements of sculpture, installation, video, audio, and performance.
Ron holds an MFA in Sculpture from the University of Delaware and a BFA in Sculpture from Pennsylvania State University. He has exhibited nationally and internationally, including, Delaware; Pennsylvania; New Jersey; Ohio, Brooklyn, NY; Arlington, VA; Baltimore, MD, Lexington, KY; Minneapolis, MN; Berlin, Germany, and Limassol, Cyprus. Ron has attended residencies at the Vermont Studio Center, Art Farm in Nebraska, and Elsewhere Artist Collaborative in Greensboro, NC. In 2009, he received an Individual Artist Fellowship from the Delaware Division of the Arts.
Ron is a builder at heart. He works with building materials, furniture, domestic objects, and everyday materials to investigate the emotion of personal relationships tied to the materials and objects. Longsdorf's work offers a different perspective on the everyday of trying to understand who and how we are. As an artist it is his goal to generate this conversation to learn more about himself and the world around him.
While in Spartanburg, Ron is hoping to broaden his conversation of interaction and material with the community by exploring the histories of who we are on a human level. Having nearly a year to explore in a new place will offer a new perspective to his already unique individual approach to making, learning, and teaching about art and life.
IAN SHELLY
Ian Shelly (b. 1983, Lubbock, Tx) grew up on the rolling plains of west Texas in the laboratories and offices of the chemistry building at Texas Tech University. As the son of a chemistry educator father and biologist mother, the languages and materials of the science world have influenced his life heavily.
An upbringing around his scientist parents and his military minded brother has molded his interests in the fields of weapons manufacturing, scientific research and ceramic art-making. This atmosphere of influences is the core to all Ian's imagery and thought. He began his formal art education as a functional potter and only within the last three years has incorporated the more stylistic narrative themes of his drawings into his world with clay.
The immensity of the ceramic world and industry has made ceramic sculpture the ultimate testing ground for work that both exalts and deplores man's inquisitive nature. Ian hold a BFA in Ceramics from Texas Tech and an MFA in Ceramics from u. Missouri.
Ian's friends would describe him as diligent, compassionate, and enthusiastic. He likes to make art until he falls asleep. He is looking forward to transitioning his teaching philosophy of interaction, application and enjoyment into service within the Spartanburg community.
KERRI AMMIRATA
Kerri Ammirata (b. 1983, Glencove, NY) is a painter and printmaker who believes in the magic and poetry in art. Trained as a landscape painter, her work is strongly influenced by nature, specifically its patterns and rhythms, and by the spiritual intensity created in Australian Aboriginal artwork.
Her current work deals with the idea of creating as a human and how it relates to the moment. She is interested in meditation and how a heightened sense of awareness of the body and mind can inform and change a piece of art.
Kerri recently received her MFA in Painting from Boston University in 2010, where she was interviewed as the "Six to See" in the Boston Globe, reviewed in Artnet magazine, and a finalist for the Kahn Award. She received her B.A. in Fine Arts and Family Science from Anderson University in 2006 and studied for two summers at the Chautauqua Institution residency program where she was awarded full-tuition scholarship.
Kerri is excited about living and creating this upcoming year at HUB BUB and plans to implement workshops for landscape painting and relief printing. She is honored to be a part of the amazing community in Spartanburg and the family that is created at HUB BUB. She expects to have lots of sweet tea, some laughs at barbeques, and being able to say the word "y'all."
JAMEELAH LANG
Jameelah Lang (B. 1985, Lawrence, Kansas). Her mother is from Jeddah, Saudi Arabia and her father is from Bridgeport, Connecticut. Jameelah spent most of her life living within a mile radius of her childhood home, and her mother was very happy about this.
She received her undergraduate degree at the University of Kansas in English literature, and she is currently working on her thesis in order to complete an MFA in creative writing, also from K.U. She writes fiction and creative non-fiction, and she also sometimes writes folktales. Her philosophy on writing is, "Lie, cheat, steal."
During her year at HUB BUB, she hopes to begin work on a series of short stories based on her experiences growing up as a Middle Eastern American in the Midwest. The stories will deal with what is lost, personally and culturally, in a bicultural or multicultural family. She is also excited to schmooze with other artists and writers, maybe over frozen yogurt.
ESTEBAN DEL VALLE
Esteban del Valle (B. 1984, Chicago) is a painter currently exploring issues surrounding the relationship between theology and the pursuit of "true" democracy.
Drawn to the iconic imagery of revolutionary struggles as they appear in the genre of history painting, photography, and film, Esteban has been investigating the moral and ethical questions pertaining to the use of "force" in the struggle for justice and equality. His work often takes the form of large mixed media drawings on canvas.
Esteban completed his BFA at Southern Illinois University where he received a 2007 REACH Creativity Award, and became a McNair Scholar. He has recently completed his MFA at the Rhode Island School of Design, where he received a Presidential Scholarship and the Toby Devan Lewis Fellowship. Esteban has produced murals throughout various parts of the USA, such as Chicago, IL, San Antonio, TX, and Kansas City, MO. He has been in numerous publications and his mural work has been featured on HGTV. Esteban has also been a part of various exhibitions including the 2009 New Insight exhibition at Art Chicago, and Geography of Imagination curated by Phong Bui in New York City. I am very excited about moving to Spartanburg, where I hope to interact with the community and embark on various public art projects.
He is looking forward to working with the very talented group of Hub Bub residents and staff, and the potential for some great artistic developments. He is very eager to explore South Carolina and its rich and diverse cultural components. He loves meeting new people and learning about new places. "Thank you Hub Bub for inviting me!!!"
GREGORY BAE
Gregory Bae (B. 1986, Salt Lake City) is an artist who most frequently paints from observing the quotidian and distinct moments of the day. He also creates spontaneous tangential works that vary in interest and lie in various traditions. In this sense, he is happily confused. An interest in the presence of physicality in a piece is prevalent.
Gregory received his B.F.A from the Rhode Island School of Design in 2007 with a concentration in History, Philosophy and Social Sciences. He has been living and working in New York City, namely with the Fred Dolan Art Academy and The Space (also known as Fardom). His work has been exhibited in New York City, Salt Lake City, Providence, and Rome. His paintings are included in several private collections.
Aside from exploring his practice and creating new work, Gregory is excited about teaching drawing and painting, and is interested in hosting figure drawing sessions and providing workshops in bookbinding during his stay at Hub Bub. He is also determined to visit the landscapes in the vicinity while interacting with Spartanburg. He plans to get very involved by responding to the community's specific atmosphere and enthusiasm.
CLAUDIA DISHON
Claudia Dishon (b.1983 Louisville , KY) is a trained printmaker with a curiosity for medicine and cuisine. Her body of work spans printmaking, drawing, collage, paper sculpture, design, photography, and performance with some clumsy forays into video.
Drawing will always be the therapeutic core to her creative process. She received her MFA in Printmaking at Clemson University and her BFA in Printmaking at Murray State University. She is proud to belong to the loyal and dysfunctional family of printmaking alumni from both of these universities.
Her work is exhibited routinely in print portfolios at Southern Graphics Council conferences annually. In 2008 Dishon represented Clemson at the Charles E. Daniel Center for Architecture Research in Genoa, Italy, where she ate things that changed her life forever.
Regardless of her medium, her work poses questions of truth and quality through a symbolic language of animals and color. Daily struggles as simplistic as bumbled conversations become epic mythological quests in the venue of her work. Thematically her work is an exploration of domestic issues, natural phenomena and an interest in the less fortunate. These topics are lovingly blended with the detritus of her glamorous bag lady life style, and the house plants, spiders and tropical fish that make up her ecosystem.
Dishon anticipates her residency in Spartanburg as a chance to realize her ongoing goal to teach people to heal themselves through Art and awareness. She looks forward to another year in the balmy south and swears this fresh start means she will keep her room clean. She looks forward to the golden wish of creating full time again, as a two month waitressing stint has plainly indicated that she is unfit for anything else.
JONAS CRISCOE
Jonas Criscoe (B. 1979) is an interdisciplinary visual artist interested in how our ever-expanding consumer culture has shaped the environments and landscape in which we live. His work has been exhibited throughout the United States, notably the Texas Biennial and the International Print Center in New York. His work is also part of the West Collection.
Criscoe has been featured in various art publications, including Art Lies and New American Painting: The Western Edition. A native of Austin, Texas, he received his BFA from the School of Visual Arts in New York and the University of Texas at Austin, and his MFA from the Rhode Island School of Design this past spring.
Jonas spent his time in Spartanburg taking full advantage of the time and space provided by HUB BUB. He made a tremendous body of exciting new work. He organized and taught several screenprint workshops and a collage workshop at HUB BUB; spent each Wednesday in the Fall and Spring at Whitlock Junior High teaching photography and graphic design during afterschool programming; and worked with Wofford College during a "Surrealist Space-Time" class in January.
During his year here, Jonas was the "go-to man" for small maintenance and building projects, exhibition hangings, a home-cooked meal, or a good laugh.
ELLIE PIERSON
This girl has a spectacular vision and sense of sound for things unseen, but heard and unheard, but seen. She swears that she will finish her schooling for good. She thinks that survival is a luxury, and thus she is going to give this notion weight in her daily activities and through her interactions with both inanimate and animate beings.
She is an elaborator, a traveler, but not a salesman. Chances are she will beat you in a game of Scrabble. Buy her some purple handcrafted German shoes, send her to Orcas Island or Kodiak Island, surprise her. After all, she is from OH and her initials are LE. She appreciates, among other things, her mother, basketball, Wisteria, Liquidambar styraciflua, lakes, purple broccoli, dancing, and bees...
Ellie's time in Spartanburg was truly an exploration of collaborative endeavors. She worked with Sarah and other members of the community to build and plant a small garden for HUB BUB; worked with Sarah on "Spark 'N Boil"; spent each Wednesday with Jonas at Whitlock Junior High teaching photography and graphic design during afterschool programs; worked with Sarah and the Spartanburg Ballet to create a performance piece for Dan Synergy; and helped out during Wofford's "Surrealist Space-Time" class. Ellie's installation pieces became bigger and bolder (believe it or not) as the year went on.
PATRICK WHITFILL
Patrick Whitfill finished his PhD in Creative Writing from Texas Tech University in 2008 before moving to Spartanburg. An occasional thespian and musician, he is also an unashamed super-fan of anything film related.
His poetry can be found in the Mid-American Review, Alabama Literary Review, West Branch and others. A few of his short stories have found homes online, as well. He was born, raised and educated in West Texas.
During his stay as an AIR with HUB BUB and the Hub City Writers Project, Patrick continued to work on his original collection of poems, After the Lightning Storm. He wrote new poetry that reflected his experiences and interaction while living in Spartanburg including a showstopper about the Spartanburg County Fair.
In addition to working with the Hub City Writers Project, he held an adjunct teaching position at Wofford during the fall and spring. He was able to connect with many local writers, professors, and students. Patrick's fascination and appreciation for the trees in this part of the country was unwaivering.
SARAH WITT
Fundamentally a living being, experimenting as a human, Sarah Witt occasionally identifies herself as a cross-disciplinary visual artist. Primarily focusing in performative video works, Sarah fabricates and portrays characters that become influenced and controlled by their environments.
After receiving her BFA in Film from Syracuse University in 2004, Sarah relocated to New York City where she was involved in commercial sculpture production and minor sauerkraut production. In 2007, a nomadic appetite led Sarah to Greensboro, North Carolina where she participated as an artist-in-residence at Elsewhere Artist Collaborative and has since been involved as a member of the Elsewhere Tenured Collective.
While at HUB BUB, Sarah expanded her performance practices to include significant installation work. Most notably, was the creation of 12 Sioux-style tipis that she and collaborative partner Ian Gamble constructed and installed in an empty lot in downtown Spartanburg. The tipis became a site for potlucks, picnics, and occasional overnight guests. Sarah collaborated with Ellie on "Spark 'N Boil" and on a Dan Synergy, a performance piece with the Spartanburg Ballet.
She organized regular soup nights and baking club in the fall and winter to bring people together at HUB BUB; built a large "Blizzard!" to give our town in the winter months; and worked with Woffor's Surrealistic Space-Time" class. Sarah will spend the summer on "Tipi tour" with Ian and a crew of up to 8 in a veggie-oil-driven bus. Her fall will be begin in graduate school at MIT.
DERYA ALTAN
Derya Hanife Altan is probably shorter than you. That said, her ability to take you down should not be underestimated. Most of the time, she manages to keep her inner Lone Wolf McQuade at bay, finding it more fruitful to channel her energy into her video, sculpture, and design work.
Born and raised in Massachusetts, educated in New York City, she draws inspiration from catastrophe, ethnic dress, decadence, and the ocean. A brilliant scientist once wrote of her " If I were a betting man, I'd bet on her to win–or at least to show." She would like to acknowledge her friends, her family, and the Pencil Factory's bloody mary recipe for being, in her own words, "all so awesome."
With a knack for good cooking and cinema, Derya spent the early months of her residency organizing "potluck and fun nights". During her time here, she became a regular in the knitting-community of Spartanburg; inviting friends and strangers alike into The Showroom by offering free bi-weekly "sit and knit" sessions.
An expert in design, her skills came in handy when it came time to advertise the HUB-BUB AiR program and decorate for the annual Halloween bash. Working with felt, faux diamonds, and latex tubing; Derya's sculptural work is provocative and humorous at the same time...some would call it magic. Derya will spend the summer of 2008 in Boston before pursuing her MFA from Cranbrook in Michigan.
ARIELLE ANGEL
l grew up in Miami, Florida and moved to New York City in 2002. She graduated from NYU in May of 2006 with a double major in Studio Art and Creative Writing. She is particularly interested in the apocalypse (an environmental one and not a biblical one), ghosts, and ancient Jewish cemeteries.
She is currently searching for some less morbid interests. So far, the frontrunners are bagels and cream cheese and cheesy old school musicals. She has lived in Greece for a short period of time, and subsequently began collecting and painting icons. Some of her other artwork and writing deal with themes of gender and sexuality, aging, and cultural identity.
Her time in Spartanburg was spent roaming neighborhoods and exploring abandoned Southern landscapes. With a new found affinity for the camera phone, Arielle documented her derives (long meandering walks to nowhere in particular) which inspired a series of 50 small glass paintings that often reflect isolation and poverty. During her art and performance piece "We Live Here Now" she and fellow resident, Rachel Harkai, moved themselves and their belongings into 3 empty storefront windows where they lived for 5 days and 4 nights as a way to attract people downtown.
In the spring she worked closely with Spartanburg's College Town to build the HUB BUB College Street Team as a way of encouraging college students to come downtown, to work together on College Town projects, and to get involved in cultural happenings. Arielle left Spartanburg to visit New York and will travel to Israel in the summer of 2008.
NICHOLAS DOWGWILLO
Nicholas Dowgwillo (B. 1981 Madison, WI) graduated with a BFA from the University of Wisconsin-Whitewater. In his time at the university he was totally immersed in both the making and exhibiting of art. His nontraditional mixed media prints and paintings are the product of intense, cloistered studio practice.
These works have been shown in both regional and international group exhibits including a 2005 show at Beijing Normal University and a recent national print invitational at the Commonwealth Gallery in Madison, WI. Influenced equally by transcendentalism and Lowbrow, Dowgwillo creates work with an eye towards balance and opposition. The results are remarkably fragile and light.
During his residency at HUB BUB, Nicholas initiated a bi-weekly figure drawing class and encouraged local artists to participate. He used his design skills to create the cover for the Hub for the Holidays cd cover and designed limited edition Hub Bub t-shirts and canvas bags. Dedicated to studio time, Nicholas will attend Arizona State where he'll pursue his MFA in printmaking beginning in fall 2008.
RACHEL HARKAI
Rachel Harkai received bachelors degrees in Creative writing and Comparative Literature from the University of Michigan in 2007. A former DJ and talk-radio host, she is an avid music-lover and a percussionist herself. She is a four-time recipient of the Hopwood Award, a prestigious college writing prize, for both poetry and nonfiction.
Rachel's poetry has appeared in Michigan Quarterly Review, Portland Review, Hotel Amerika, and elsewhere. She is a native of Grand Rapids, Michigan. Rachel spent much of her time and energy during her residency working with The Hub City Writers Project. Through her assistance with readings and book launches, she became very connected in Spartanburg's literary landscape.
In the fall, she presented lectures and facilitated writing workshops at many local schools and organized the regional competition of the NEA's national poetry program: Poetry Out Loud. After compiling and editing a tremendous collection of poems by Spartanburg poets, Rachel's anthology of regional poetry, "Still Home," was printed in March of 2008. Rachel and fellow-resident Arielle Angel also worked together on a performance piece entitled "We Live Here Now," in which both artists spent 5 days and 4 nights living and making art in empty storefront windows in downtown Spartanburg.
Currently, Rachel lives in Detroit, Michigan where she works for Inside Out Literary Arts Project teaching creative writing in Detroit public schools.
LEAH BROWN
Leah Brown is a person who constantly questions the nature of reality...ie: What is real and what is not, and the very definition of reality. Her sculptures, her installations, and the rest of her artwork is often motivated by the idea of dreams, the notion of dismissing our dreams and why we often do so. The result of this dreamy groundwork is sometimes startling, often ghostlike, and always unique and compelling.
After her near year-long stay in Spartanburg, Leah was off to New York City, where she joined her long-time boyfriend, Peter Symons, also an artist. At the moment, she is working as a sculptor for an Art Fabrication studio called KB Projects, LLC, alongside some of the field's most established and renowned artists.
In addition to her work for the studio, Leah is focusing on some new illustration work which is based on a traditional Victorian hair-working technique called Sepia Painting (a unique coloring process using pigment from crushed human hair.) Though she is enjoying her challenging and productive time in the big city, Leah is looking forward to soon getting representation in New York so she can return "home" to the South to continue building her provocative and insightful body of work.
BRIAN HITSELBERGER
Brian Hitselberger, who had recently completed his undergraduate studies at Tulane University when Hurricane Katrina hit his adopted home-town, arrived in Spartanburg ready to tackle the grueling job of relocating physically and regrouping emotionally. More importantly for him, perhaps, as an artist, though, was that he arrived at the AIR program ready to create.
During his time with HUB BUB, Brian used the majority of his studio-time focusing on a slew of new and challenging projects, some of which were inspired by love, some by loss, some by his old home in New Orleans and some by his temporary but significant new home in Spartanburg. Regardless of his motivations or his medium, one thing was clear: there was no mistaking a piece of his, because everything he creates is just so distinctly Brian. To this point, Brian reflects:
"My work is about stories I've lived, heard, dreamed or hope for. I'm not interested in trying to hide my presence in my pieces--the hand of the object maker in a sense validates the object. It's how I know I'm here."
Since completing his 10-month stay in the beautiful blue loft above the Showroom, Brian has been busy. Currently, he is enrolled in the Graduate School for Painting and Drawing at the University of Georgia-Athens, where he is also the Curatorial Assistant for the University Gallery Director there. Brian is exhibiting his paintings and sculptures throughout the state of Georgia, and in the Fall will be participating in a show in conjunction with Prospect One, the New Orleans Biennial, which is both a huge occasion and an especially meaningful honor to Brian.
JUSTIN PLAKAS
Justin Plakas started making paintings just out of curiosity and right after he had graduated from high school. He had never taken any formal art courses outside of the ones that he had to take in public school in his hometown of Takoma Park, Maryland. But his little brother, knowing that Justin had always wanted to make films but just couldn't afford the gear, bought Justin a video camera for 40 dollars from a guy off the street. And that, as the story goes, is how he got started making videos.
With a computer, he learned that he could make paintings that moved, and with added audio equipment he could add an aural component to his work that he could never create within the context of traditional painting methods. So, now, with his knowledge of all things technical and the gift of his modest video gear, Justin was hooked. Suddenly, he was a filmmaker, joining audio and visual elements to construct living environments that were unfamiliar and mesmerizing to his audiences.
During his time at the Hub Bub residency, Justin continued his work with filmmaking, but also revisited an old love of still photography. Partnering with The Boys and Girls Club of Spartanburg for one of his most beloved and significant projects of the year, Justin mentored at-risk children with his knowledge of the importance and logistics of taking pictures. After leaving the AIR program in the summer of 2007, Justin (with former AIR Emily Louise Smith) moved to the coastal town of Wilmington, NC where he is currently employed with Signal, a design studio, as their Video/Motion Designer.
Despite the complicated transition from full-time artist to full-time employee, Justin continues to experiment with his art – sometimes with an old videocamera, others with a new digital one, perhaps with a classic Kodak Premo, and often even with his trusty Polaroid. Whatever the medium, the outcome of Justin's passion, skill and perceptive eye is always the same: totally bitchin' art.
EMILY LOUISE SMITH
Like most kids, Emily Louise Smith grew up thinking the South Carolina town she lived in and the people she knew were unremarkable. It was only years later that she came to realize the rarity of the environment and ethic around her – the acres of farmland, waterways, and forests that disappeared a little with each of her visits home. Poetry might seem a small effort at saving the rhythms of rural speech and life, but, as she says, it is the only means of elegy she knows.
During her time as the solo HUB BUB writer-in-residence, Emily took full advantage of her adopted home in Spartanburg. The poems she wrote reflected the fragility of dying mill villages, the eccentricities of community characters, and afternoons of whistling trains. Many of these poems have appeared in Columbia Poetry Review, Front Porch, The Journal, Smartish Place, Tar River Poetry, and the anthologies Daughters of the Land (Texas Tech University Press) and Beloved on the Earth: 150 Poems of Grief and Gratitude (Holy Cow Press). Smith also worked closely with local photographers Carroll Foster and Mark Olencki, culmintaing in her biographical introduction to the Hub City Writers Project's 2007 lead title, Spartanburg Revisited: A Second Look at the Photographs of Alfred and Bob Willis.
Since leaving Spartanburg for Wilmington, North Carolina, Emily has been teaching in the UNCW Department of Creative Writing and directing its literary book imprint, The Publishing Laboratory. She serves on the advisory board of the literary journal Ecotone, and is production manager for Chautauqua, the literary journal of the Chautauqua Institute. In her spare time, she works as a freelance editor and book designer, often for the Hub City Writers Project.